The Company
OUR DEDICATION TO THE STUDENTS

Mandate
The Royal City Youth Ballet Company is a unique society of young people gathered together to do what they love to do – classical ballet. These youngsters attend daily classes at their individual dance schools and meet every weekend to attend company classes and rehearse full length ballets such as NUTCRACKER, CINDERELLA and COPPELIA. Students will grow and develop through exposure to many teaching styles and through opportunities for performance. For example in 2007 the Company performed NUTCRACKER numerous times to "sold out" audiences in Abbotsford, North Vancouver, New Westminster, Surrey, Maple Ridge and Duncan. As well, over 5,000 school children attended special performances, focus on inner city school, during the day. What a better way than students teaching students!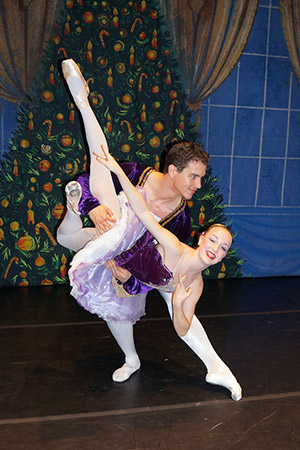 The Royal City Youth Ballet Company is a registered Society formed in 1989. The Company bridges the gap between dance schools and professional companies. In this sense, Royal City Youth Ballet Company is the only Company of its kind in Canada! We are a non-profit organization which presents professional productions with professional choreography, costumes, sets and lighting. Performing at a high level is a dream which every dancer possesses and each deserves the opportunity. 
We, the Board of Directors of the Royal City Youth Ballet Company Society, believe that by gathering together these young dedicated dancers, we are helping them prepare for life. The qualities that are enhanced in these dancers are discipline, work ethic, responsibility, maturity, co-operation in working as a team, enjoyment and an appreciation of the arts. They learn that they have a responsibility to "give something back" to their communities by sharing experiences gained and providing high quality volunteer entertainment to groups such as schools, hospitals, senior citizens' homes, and numerous charity fund raisers. As well, our Company acts as goodwill ambassadors of culture, representing our community, province and Canada. What they bring to their chosen profession and to our society as a result of their years of training is our prime goal.
Board of Directors: Donna Fishwick | Alexander Schwartz | Leona Healy | Susan Stocker | Brenda Briggs 

Artistic Director: Camilla Fishwick-Kellogg 

Executive Producer: Trisha Sinosich-Arciaga 

History
A very successful production of Coppelia in the spring of 1989 was the inspiration to form the Royal City Youth Ballet Company. Company Manager, Donna Fishwick, and Artistic Director, Dolores Kirkwood OBC, recognized the need for a youth company to "bridge the gap between dance studio and professional company." In September 1989, the Royal City Youth Ballet Company Society of New Westminster was founded by a board of six directors and now involves dancers from many dance studios.
This is a unique society, formed to gather together young, enthusiastic dancers to learn and rehearse full length ballets. This non-profit organization is the only one of its kind in Canada, presenting full length ballets with professional artistic direction, costumes, sets and lighting. 
The Company has performed in theatres throughout the Lower Mainland, Vancouver Island, Southern Alberta and have represented our community in Disneyland, Knott's Berry Farm in California, Disneyworld in Florida and aboard the Royal Caribbean, Princess, Norwegian and Carnival Cruise Line ships. At all times our dancers are received as Goodwill Ambassadors of our community.
"The Nutcracker has succeeded year after year because it brings together the craft of professionals and passion of students, along with beautiful costumes, fantastic sets and the magical story, " said artistic director Dolores Kirkwood, OBC. "Using professionals in the crew and for the more complex roles adds to our audience appeal, as well as showing students where their hard work can take them."
A special tribute to Camilla Fishwick, who choreographed much of our first performance and has donated her time and talents for the 29 years of our Nutcracker life.